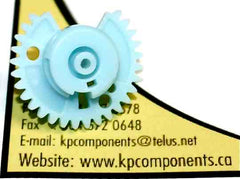 SONY 3-736-147-01 Gear Replacement
Price: Canadian $6.75 (US $4.99 Approx.)
✔︎ SONY Left Threading Gear 3-736-147-01
✓ Replacement SONY Left Threading Gear 3-736-147-01
Fits SONY Models:
✓ Sony SLV555, Sony SLV555UC,
✓ Sony SLVR1000, Sony SLV757UC,
✓ Sony SLV353UC, Sony SLV373UC,
✓ Sony SLV585HF, Sony SLV750HF,
✓ Sony SLV770HF, Sony SLV900HF,
✓ Sony SLV757, Sony SLVR5UC,
✓ Sony SLV686HF, Sony SLV696HF,
✓ Sony SLV575UC, Sony SLV751HF,
✓ Sony SVO140, Sony SVO160,
✓ Sony SLV393, Sony SLV676UC,
✓ Sony SLV595HF, Sony SLV920HF and others
• Left Threading Gear
• 
3-736-147-01 Replacement
• Order # IW-220
• Sony VCR Blue Gear
• Price is Per One Gear
• Condition : NEW
• Professional installation is required.
• Errors are subject to correction.

✔︎ This is the gear that drives the guide arm assembly
on the supply side, located underneath the chassis.
This gear is a common problem in these Sony VCR's.
Common symptoms included; VCR loads a cassette and
tries to load the tape around the head but fails.The VCR
will shut down in most cases but may simply unload the tape.
Related Products